It's an hour worth listening to.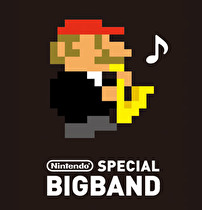 The Nintendo Special Big Band performed a concert at the Nico Nico Super Conference, and one kind person uploaded it to YouTube.
The show lasts around an hour, and includes medleys for various Nintendo franchises, such as Super Mario, The Legend of Zelda, Pokémon, and others.
Unfortunately, embedding has been disabled, but here are the links to the five-part musical show:
Or, you can simply watch the whole concert via this playlist. The first part's video description states that it may be deleted soon, so watch and listen while you can.
The list of the musicians of the Nintendo Special Big Band are as follows:
Arrange & Keyboard: Masanori Sasaji
Bass: Masato Susuki
Drums: Hiroyuki Noritake
Guitar: Takayuki Hijikata
Percussion: Carlos Kanno
Trumpet:

Eric Miyashiro
Koji Nishimura
Sho Okumura
Yusuke Nakamura

Trombone:

Satoshi Sano
Kanade Shishiuchi
Azusa Toujou

Bass Trombone: Katsuhisa Asari
Alto Sax:

Kazuhiko Kondou
Nami Kano

Tenor Sax:

Osamu Yoshida
Masakuni Takano

Baritone Sax: Takuo Yamamoto