Kirby, boxes, star children and Wario make way to your systems this week!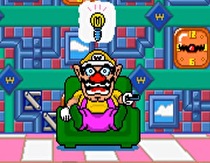 This week on the eShop we see more Game Boy Advance titles arriving in the Kirby and WarioWare series. We also see some activity on the 3DS Virtual Console as Mach Rider glides on in. Boxes, poker and star children also make their appearances this week on the eShop, so let's take a look see!
Wii U eShop
What is so exotic about Exotic Farm? You can raise hippos and ostriches, which are indeed animals you wouldn't think would end up in your atypical farm setting. I'm not sure what either does in order to contribute to your farms economy, but I don't think this is an issue in this Wii U game. Or maybe it does, I'm not sure!
Wii U Virtual Console
I haven't played this Kirby game extensively, to be honest. They've always been fun, lighthearted romps so I guess it can be an easy recommendation. Also seems like they're quickly releasing the Ambassador titles to the Wii U. Not a bad thing, as most of them are fun, but it is starting to get noticeable.
WarioWare, Inc.: Mega Mircrogame$!
This was one weird game back in the day. I played this a bit and enjoyed it, so I recommend this one. It's sort of like a mash of surrealistic humor mixed with nostalgia and general weirdness. Then again, that describes Wario's personality and characteristics to a tee so are we really surprised?
Nintendo 3DS eShop
Conception II: Children of the Seven Stars
This game involves something called "star children", and just by that fact as well as looking at the game's title you know this is a JRPG from the get go. Those don't come over here too often like they used to, so it's nice to see something like this released once in a while. Let the eccentricities begin!
Upon first glance, this looks like Atlantis Quest. That sounds fun, I've always wanted to find the lost underwater city of Atlantis! But alas, reading comprehension got the best of me and it's Atlantic Quest, which is not about the lost city of Atlantis. Still looks fun from the screens, but one can only hope...
Looks like in this game the goal is to solve rubix cube-like puzzles that eventually award you with a nice picture with clever use of the 3DS hardware.
I've always wanted to be the governor of Poker. Not just a causal player, no. The boss. The big time. I want to control the poker empire. First thing on the agenda? Changing the rules so I know how to play.
Nintendo 3DS Virtual Console
This game was a little before my time. Now, considering I've played a bunch of video games before my time, Mach Rider seems to be one of the few I haven't tried. Racing games have never been my thing, and Mach Rider seems to be a racing game from 1985, so there you go. I'm sure there's a few out there who enjoy the game, but it doesn't seem to be for me.
Sales
is 50% off on the Wii U eShop as we speak! The deal ends on April 17 at 9 am so nab it while you can.
Escape from Zombie City is also 50% off on the Nintendo 3DS eShop. This sale begins on April 12 at 9 am and runs through April 27.
G-Style Co. is having a sale on select games. Check this out on the Nintendo 3DS eShop on April 12 to see what tickles your fancy.
My Farm will have its price cut from $7.99 to $4.99 starting today.