Monopolize your Zelda and/or Pokémon fandom.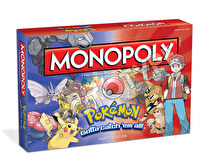 Southern Hobby Supply has posted listings for new Zelda and Pokémon-based Monopoly games.
Both Monopoly Pokémon Edition and Monopoly Legend of Zelda Edition are set to release August 21, 2014, as reported by the website.
A 550-piece The Legend of Zelda puzzle was also listed, which Hobby Supply lists as releasing a week earlier on August 15. It features various characters from the series and measures 18" x 24".
For Pokémon, this isn't the franchise's first time teaming up with Rich Uncle Pennybags. In 1999, Monopoly: Pokémon Edition first came to the scene as an adaptation of the Red and Blue versions as well as the anime.