Guess you'll have to get your Luigi figurine fix some other way.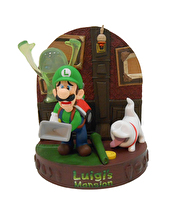 The Luigi's Mansion: Dark Moon figurine that was available for pre-order in North America, and immediate purchase in Europe, is now sold out on both continent's Club Nintendo websites. The figurine was available for 1500 coins in NA, or 7000 stars for EU players.
The figurine was announced during Nintendo's December Direct broadcast marking the Year of Luigi's extension into 2014. The diorama figure featured a frightened Luigi armed with a Poltergust. A Polterpup and Greenie ghost harassed the poor plumber from the sides.