Phoenix Wright leads the way in Capcom's plans for 2014.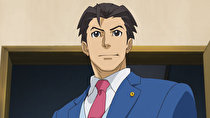 A new instalment in the Ace Attorney franchise is one of several key games currently in development at Capcom, according to a recent group interview with the Japanese giant's senior directors and producers.
Takeshi Yamazaki, who directed Nintendo 3DS title Phoenix Wright: Ace Attorney - Dual Destinies, stated in an interview with 4gamer.net that the company had already begun working on the sixth entry in the long-running courtroom adventure franchise.
In this same discussion, Ace Attorney creator Shu Takumi also confirmed another new, possibly unrelated, title being developed by his own team would be announced some time in 2014. Takumi has taken charge of the original Phoenix Wright trilogy and puzzle game Ghost Trick: Phantom Detective on Nintendo DS, while his latest project was Professor Layton vs. Ace Attorney, the 3DS collaboration with Level-5 that is scheduled for release in the West next year.
Other titles in development include a revival of a classic Capcom franchise, which is expected to be revealed next summer. This news came from Kenji Sugiura, who produced the Dungeons & Dragons: Chronicles of Mystara arcade combo pack that was released in 2013 on the Wii U eShop, among other platforms.
No specific details were divulged regarding any of these upcoming games, with more information expected over the next few months and beyond.