Puzzle-solving and court antics are just over three months away.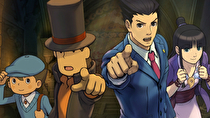 Franchise crossover game Professor Layton vs. Phoenix Wright: Ace Attorney will launch in Europe on March 28, 2014 for Nintendo 3DS.
The title sees Professor Layton and Phoenix Wright drawn together by a girl named Espella, who is accused of witchcraft, forcing the pair to solve the mysteries of the city of Labyrinthia through a combination of the exploration, puzzles and courtroom drama that the respective Layton and Ace Attorney series are known for.
No word has been given yet regarding a release date in North America, thought it was confirmed earlier this year that the game would be coming to the US at some point in 2014.