You wouldn't download a chair now would you?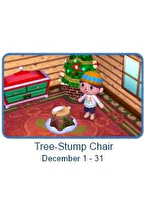 From December 1-31, people who have the SpotPass feature enabled on their Nintendo 3DS Animal Crossing: New Leaf game will receive a free Tree-Stump Chair.
To receive the gift, players must visit the Post Office on Main Street and speak with either Pelly or Phyllis, then select the menu option "Downloadable Item."
Players who miss the item during the allotted time period won't be able to claim it at a later date, so be sure to taie advantage of it while it's available.