Image & Form's CEO drops a few hints on what is to come!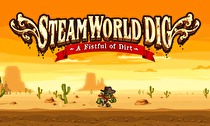 Brjann Sigurgeirsson of Image & Form said a few more words about the new SteamWorld game. He said this in a post-mortem audio interview, which you can listen to right here.
At the question if there is any update on the title, the company CEO said the following: ''It is the next SteamWorld game, meaning that it is going to be in the SteamWorld universe. The next game is not going to be a direct sequel to SteamWorld Dig, it is not going to be SteamWorld Dig 2. It is coming to the Nintendo 3DS first, because we think it is a fantastic platform. If I have any updates on the game? The thing is that earlier, when we did SteamWorld Dig, the first thing I went out and said was that it was going to be released at the end of February 2013 and then I said by the end of March, '' says a worried Sigurgeirsson.
''If there is one thing I have learned, is talking too much before everything is set in stone. It is very likely that I would have to eat my own words. So I sort of promised that the rest of team, that they sort of would kill me if I say too much. I will say a few things. Gameplay wise, it will have elements from SteamWorld Dig, you will definitely know in which environment you are. Then there would be other gameplay elements in there and the mix is very interesting. I have played the vertical slice, the very early alpha version of this game and it is fantastic. I tell you that much. It is just the brilliance of our lead game designer, he is a genius at mixing stuff that really fits well together. It was so exciting to just spend 30 minutes playing this next SteamWorld game that I was... yeah, I was happy to see it. So the update on the game is I don't have a release date for it, we don't have a date on when we will release the title for it, but euhmm... that it is going to be very cool. It is coming out in 2014.''
SteamWorld Dig came out last August in Europe and North America. As of this week, the title is also available to the Japanese public through publisher Intergrow.