High-end Mario collectables are here.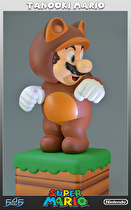 Today high-end figure manufacturer First 4 Figures started taking pre-orders on a new line of figures based on the Super Mario series. The first figures in this line are based on Tanooki Mario from Super Mario 3D Land.
Two versions of Tanooki Mario are currently being offered. The Standard Edition is basic and includes the figure of Tanooki Mario standing on a base resembling the ground found in the first stage of Super Mario 3D Land. The figure is 15 inches tall, limited to 2000 pieces, and costs $199.99.
The Exclusive version is only offered on the manufacturer's site. The difference is the Exclusive version includes a detachable red scarf (for those Stone Tanooki lovers) and a separate Tanooki Leaf figure with a Question Mark Block base. The exclusive version is limited to 750 pieces and costs $239.99.
Both figures are currently scheduled to ship by the end of Q1 2014.