Pokémon Snap on Wii U could be possible.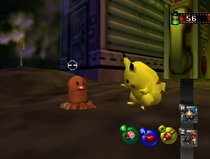 In a recent NWR interview with Game Freak Director Junichi Masuda that will be releasing later this week, Masuda spoke about the probability of Game Freak making a new iteration in the Pokémon Snap series on the Wii U.
When asked if he had considered a new Pokémon Snap title that uses the GamePad, Masuda said that "at the Pokemon brand we're always challenging ourselves to try new things, to come up with new ways to surprise our fans and come up with new ways to play the game."
He went on to say the following: "…with Pokémon Snap I don't think doing the exact same thing on Wii U would be the right way to go. We'd really have to come up with some new ideas to make it surprising and interesting for players. If we were able to do that, then yes, I think we'd have something to announce."