Its been a long time coming, but Pokémon fans will finally be able to see a proper adaptation of the original games.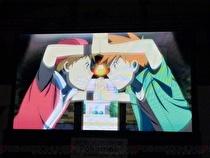 A new Pokémon anime title called Pocket Monsters: The Origin has been announced at the Pokémon Game Show event currently happening in Japan.
This new anime will be based on the original Pokémon games Red and Green and will feature the story of Red along with his rival Green. The first gym leader, known as Brock in the English version of the games has also been shown so far.
This new anime will have a special broadcast on October 2 in Japan. It is currently unknown if this is a one off special or a new series. Check out the trailer below.
Update: It has been confirmed that Pokémon Origins will be a special feature, not a full series.