Turn your 3DS into a mobile phone...kinda...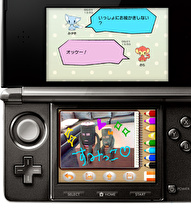 Minna no Oshaberi Chat, a voice and text chat application, is heading to the Nintendo 3DS eShop next week in Japan on July 24. The application is being published by The Location Inc. and will cost 980 yen (about ($9.82).
Minna no Oshaberi Chat supports voice calls for up to four people and up to ten people can participate in other chat features. Outside of calling, users can send messages, drawings, pictures and can even simultaneously draw with other users. An internet connection is required to interact with other people using the software.
Minna no Oshaberi Chat is currently exclusive to Japan.
Thanks for the tip, Minoru!