The injustice over the downloadable content for Wii U is at an end.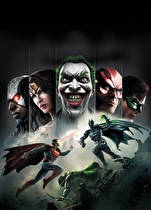 An update for the Wii U version of Injustice: Gods Among Us is now available on the American Nintendo eShop, adding support for four DLC characters, dozens of character skins and a new mode.
The update to the game is listed as version 1.1.0 and brings in some balance tweaks and compatibility with the DLC. The four new characters, available for $4.99 each, are DC Comics characters Lobo, Batgirl and General Zod, plus Mortal Kombat's Scorpion.
A handful of the character skins are available for free. There are also a couple of packs that are not currently available to purchase on the other consoles in the US. The two packs are the Ame-Comi and Lockdown.
The Lockdown pack was previously only available on other systems if the user bought and beat the iOS Injustice game and then linked a WBID account with their console version, but Wii U owners can simply purchase the pack by itself now.
The full list of what is available is as follows:
Free Skins
Classic Ares
Containment Suit Doomsday
Luchador Bane
Flashpoint Batman
Characters - $4.99 each
Lobo
Scorpion
Batgirl
Zod
Modes - $2.99
Zombie Mode (Turn every character in the game into the undead)
Single Skins - $0.99
Man of Steel Superman
Blackest Night Batman (Also available in Blackest Night #2 Pack)
Skin Packs - $2.99 each
Bad Girls (Catwoman, Wonder Woman, Harley Quinn)
Teen Titans (Raven, Cyborg, Deathstroke)
Killing Joke (Joker, Joker, Joker)
Red Son #1 (Superman, Grundy, Wonder Woman)
Red Son #2 (Batman, Green Lantern, Deathstroke)
Blackest Night #1 (Superman, Flash, Doomsday)
Blackest Night #2 (Batman, Hawkgirl, Aquaman)
Arkham City (Batman, Catwoman, Joker)
New 52 (Superman, Batman, Wonder Woman)
Earth-2 (Flash, Hawkgirl, Grundy)
Ame-Comi (Catwoman, Wonder Woman, Harley Quinn)
Lockdown (Prison Superman, Knightfall Bane and Batman Beyond)
Flashpoint - $3.99 (Aquaman, Deathstroke, Wonder Woman)