UPDATE: Wii U stretch goal has been reached!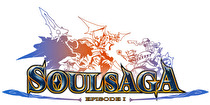 Soul Saga: Episode 1, an RPG on Kickstarter that claims to be inspired by classic Playstation JRPGs, will be coming to Wii U next year if its stretch goal of $105,000 is met.
Developed by Disastercake, Soul Saga cites games such as Final Fantasy, Breath of Fire and Persona as its influences and features a "battle initiation system similar to Chrono Trigger," turn-based battles, and, of course, a protagonist with a huge sword.
Currently, the game is just over halfway to its goal of $60,000, with 22 days left to go. Check out the project here.
UPDATE: The Wii U version is available for pre-order for $15. However, if the stretch goal is not met, the port may not happen.
UPDATE 2: The goal has been reduced to $80,000.
UPDATE 3: Wii U stretch goal has been reached.