Two full adventures comprise this latest game in the series.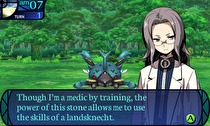 Etrian Odyssey Untold: The Millenium Girl is out on Nintendo 3DS this fall in North America, launching simultaneously at retail and on the eShop.
This game, the fifth entry in Atlus' handheld RPG series, contains two complete adventures. The primary story mode explores the origins of the Yggdrasil Tree and features, for the first time in the franchise, pre-made characters with unique personalities. In addition, the new Grimoire Stone system allows players to mix and hybridise skills between different character classes.
As well as this, the game also contains Classic mode, which is a remake of the original Etrian Odyssey, complete with 3D graphics and certain gameplay conveniences from later instalments in the series.