Mario Kart 8 did not receive the name just for its number in the series.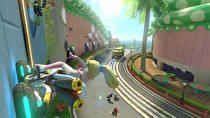 In a Nintendo Developer Direct, Mario Kart 8 was called the "definitive Mario Kart." Many other details were revealed.
Like Mario Kart 7, 8 will run at 60 FPS (frames-per-second) and will feature extensive online multiplayer. This time, Miiverse is utilized to create tournaments where you can set specific rules and play with friends. Miiverse is also used to share replay data.
Mario Kart TV is a new addition that allows you to watch 30 second replays of races, both yours and other players, which are recorded automatically while playing. This entry can be controlled with the GamePad, Wii Remote and Nunchuk, or just a Wii Remote, which can have a Wii Wheel peripheral attached to it while playing.
Mario Kart 8 is named not just because of it being the 8 entry in the series, but for one of its tracks which resembles a möbius strip. A möbius strip is a surface with only one side, which traditionally comes to resemble a figure 8.