Max Factory's Link and Samus merchandise are open for pre-order in the US.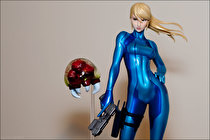 The first few pieces in the highly-coveted Nintendo figure series produced by Max Factory have been listed on GameStop's online store for pre-order.
The figures in question are Link and Samus in the heavily articulated Figma line of action figures, as well as the larger statue of Zero Suit Samus from Metroid: Other M, and are shown to have a release date of 10/30/2013.
These figures were previously only available in Japan and distributed by Good Smile Company, but due to a licensing agreement with Nintendo, the American release of the figures will be distributed through Diamond Comics. It is currently unknown if the following two Figmas, Pit and Dark Pit from Kid Icarus Uprising, will also see a Western release.
Other retailers have begun taking pre-orders for these figures as well, but the general price point seems to consistently hover around $49.99 USD for the two Figmas and $99.99 for the larger Zero Suit statue.
While you're waiting for these figures to hit store shelves, you can read our own Mariobilia impressions of the merchandise here and here.