Sonic & All-Stars Racing Transformed on Wii U races to the top as the highest selling version.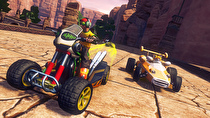 SEGA Sammy, the holding company of SEGA, yearly financial earnings revealed some interesting and exciting news when it comes to Nintendo platforms.
Sonic & All-Stars Racing Transformed sold best on the Wii U with 310,000 copies, while the Nintendo 3DS version managed 190,000 units. Sonic Racing was SEGA's biggest selling title at 1.36 million beating out Aliens Colonial Marines 1.31 million. Colonial Marines was orignally going to be released on Wii U but was canceled most likely due too a very poor critical and fan reception.
SEGA has seven titles planned for Wii U in their next fiscal year, matching the number of PS3 releases and beating out the number of Xbox 360 releases by one. The report did not, however, include games planned for the PS4 or the upcoming Xbox. The 3DS has six titles coming, which just edges past the PS Vita's five titles. The DS has no support in the next fiscal year while Sony's PSP has two games coming.