Coins! Coins! Coins!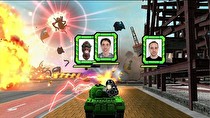 Tank! Tank! Tank! on the Wii U's eShop still gives you 60 Club Nintendo coins, despite adopting a free-to-play model. The game launched with the Wii U back in November of last year for $49.99, but was reworked as a free download in Japan, Europe, and most recently North America. Despite the game being free (with extra stages and mode unlocks that can be purchased separately) players can go to their Club Nintendo account after downloading the game and take a survey. After completing the survey, they will be rewarded 60 Club Nintendo coins, as if they had purchased the full retail game.
It is unknown if this was done in error, but we will keep you posted if anything changes.