Here comes an eShop game, hopping down the eShop trail, hippity hoppity new game on its way.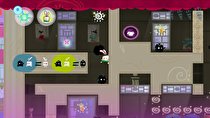 Kung Fu Rabbit has been announced as a Wii U eShop game.
Originally released on iOS and Android devices, Kung Fu Rabbit is a 2D platformer following a rabbit on a mission to rescue his disciples, who have been bunny-napped by Universal Evil.
Neko Entertainment, who also recently brought Puddle to the eShop, is publishing the Wii U port. They say that there are a total of 80 levels across Normal and Hard mode, and 15 items to customize the player's rabbit.
Though there is no specific release date, Kung Fu Rabbit is scheduled to come out in mid-April.