An interview with Capcom shines new light on this upcoming project.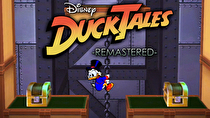 Disney recommended to Capcom that WayForward Technologies develop DuckTales Remastered. This, and several other details, were revealed in a Destructoid interview with the game's producer Rey Jimenez.
Capcom bonded well with WayForward, "they handled practically all of the production side like pros. The game has been in development for around a year, and we would love to work with them again... retro or otherwise," said Jimenez.
The game will be 70% content from the original, with added content to give characters and levels more context and narrative, plus other added features to modernize the game. Some of the original voice actors will return, as well as the cartoon's original background designer. "We want to do what we felt the original team could have done if they had the resources," Jimenez explained.
Unfortunately, staying true to the original, no multiplayer DLC will be added to the game. However, fans of the game will enjoy a new, harder extreme mode while beginners will benefit from an easier experience.
Jimenez elaborated, "we have made a lot of the game easier for new fans. For instance, there's a new 'easy pogo' system where all you have to do is press a button, and the Transylvania level was reworked to make it less confusing. On the easiest difficulty, you'll have the chance to see the whole map, you'll get infinite lives, you'll be able to get the maximum amount of hearts, and easier bosses. We want to try and breadcrumb the player if they feel like the game is too hard. On Hard mode, that's the closest to the NES version we could get. No hand-holding there. On Extreme though, that's actually harder than the original. You'll have less hearts than the NES game and there's some challenging reworks."
The game will be made using the Mighty Switch Force game engine and will also include Wii U specific features. For example, the gamepad will allow players to view maps. "Full remote play features" were also mentioned, but Jimenez did not clarify what that would mean for the game.