Perhaps not the most EXCITE-ing news.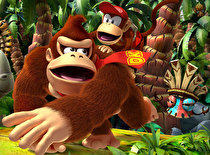 Monster Games, the studio behind ExciteBots and ExciteTruck, is developing Donkey Kong Country Returns 3D for the 3DS.
This news comes from the Australian Classification Board, which labels Monster Games as the game's 'author.'
Monster Games last project was Pilotwings Resort for the 2011 launch of the 3DS in North America. Previously the studio had worked with Nintendo on Excitebots: Trick Racing, Excite Truck, and Excitebike: World Rally.
Donkey Kong Country Returns was originally developed by Retro Studios, previously known for their work on the Metroid Prime trilogy. It was released in November of 2010, and was a critical and commercial success.
Donkey Kong Country Returns 3D is scheduled for release this Summer.