Gamers can almost complete a 3DS rainbow with Nintendo's new colors.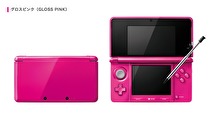 Two new colors will be added to the Nintendo 3DS lineup in Japan. Starting March 20, Nintendo will begin selling Light Blue and Gloss Pink colored 3DS units. Each unit comes with a 4GB SDHC memory card and retail for 15,000 yen each.
These two colors will bring the total number of standard 3DS color variations to eight in Japan, not including limited editions. There is currently no word if either of these colors will become available outside of Japan.