A new Mario and Donkey Kong, a Dillon's Rolling Western sequel, and more!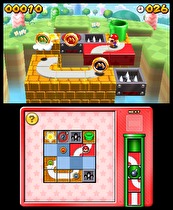 Multiple new 3DS eShop titles were announced during today's Nintendo Direct presentation.
A new entry in the Mario vs. Donkey Kong series was shown, called Mario and Donkey Kong: Minis on the Move. This title differs from previous entries in the series, as the gameplay now takes place in full 3D. The game also allows players to create their own levels. Nintendo says this game will arrive soon.
The hit eShop title Dillon's Rolling Western also gets a sequel, called Dillon's Rolling Western: The Last Ranger. This new entry in the series allows Dillon to recruit allies and requires players to protect a moving train in each stage. Dillon's Rolling Western: The Last Ranger hits the 3DS eShop on April 11 in North America.
The last new eShop title announced is a game known as Kersploosh!. Kersploosh! puts the player in control of various falling objects that have been thrown in a well. The objective is to avoid different obstacles and reach the bottom of the well in order to make a "Kerploosh!" sound. Kersploosh! will be available on the 3DS eShop on March 7 in North America.
Additionally Game Freak's highly anticipated 3DS eShop title HarmoKnight has been given a release date of March 28 in North America, with a free demo to be available on March 14.