North America will now get the European launch title.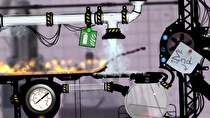 Puddle is launching on the Wii U eShop next week, January 31, in North America, Neko Entertainment has confirmed with us.
Puddle was initially scheduled to release alongside the Wii U this past November. While it did so in Europe, North American liquid-physics puzzle fans were left in the cold.
In Puddle, players are put in control of a liquid that is controlled via tilting the GamePad. Throughout the game environmental puzzles will block your path and cause you harm as you try to reach the goal with as much of the liquid left as can.
Check back on Nintendo World Report for a review of the game next week.