Aussies and Kiwis will be able to hunt monsters (ultimately) soon.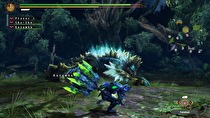 Monster Hunter 3 Ultimate for the Wii U and Nintendo 3DS will launch in Australia and New Zealand on March 23. The game will be available both at retail and through download on the Nintendo eShop.
The game on the Nintendo 3DS can be experienced both in single-player and in local multiplayer for up to four players. Wii U players will be able also play solo or form hunting parties of up to four players online. They can also use the GamePad's microphone to chat online with their party. Nintendo 3DS and Wii U owners can connect locally to play together as well.
Players who are not familiar with the Monster Hunter series will be able to download a demo for both versions of the game on February 21 through the eShop. The demo includes one beginner and one advanced quest to try out.
Check out the announcement trailer below.