Miyamoto wants to move the series away from the changes made in Pikmin 2.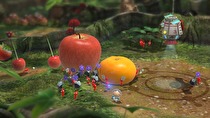 Pikmin 3 will be a return to the series' roots as per Shigeru Miyamoto's misgivings over Pikmin 2's design decisions.
Miyamoto, who serves as producer on all three installments, told GamesMaster magazine that he didn't completely agree with Pikmin 2's less stressful mechanics. The sequel dropped the time restraints found in the first Pikmin, allowing each player to achieve the objective at his or her own pace.
"Our main aim in Pikmin 2 was to get rid of any stress," Miyamoto says, "...so that it would be very user-friendly. Well, I myself couldn't agree with that direction perfectly." Miyamoto notes that the pressure put on players in the first game to rebuild Captain Olimar's ship was intentional, as he wished to have Pikmin be a strategic game.
When it came time to design Pikmin 3, Miyamoto says he gathered the team behind its predecessor and made clear his goal. "...I should say that half of my job at that time wasn't just to talk, but rather to "persuade" them to understand what I intended to do and to agree to my idea."
Pikmin 3 is scheduled to arrive on Wii U within Q2 of this year.