Update: A Japanese Nintendo Direct will now happen earlier in the morning.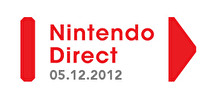 Update: Nintendo is now also holding a Japanese Nintendo Direct at 8 p.m. JST (6 a.m. EST, 3 a.m. PST) that will cover their Wii U Launch.
Nintendo of America and Nintendo of Europe will be releasing a new edition of Nintendo Direct on December 5.
This latest Nintendo Direct will focus on the remainder of 2012 and early 2013 games for both the Wii U and Nintendo 3DS.
Both Nintendo Direct presentations begin at 9 a.m. PST, 12 p.m. EST, 5 p.m. GMT, 5 p.m. BST, and 6 p.m. CET. Those wishing to watch in Japan can do so on December 6 at 2 a.m. JST.
The North American Nintendo Direct can be watched on the Nintendo Direct site. The European presentation will be streamed on the Nintendo Direct website and will be hosted by Nintendo of Europe President Satoru Shibata.