Yasumi Matsuno's latest work will make it to eShop before the year's end.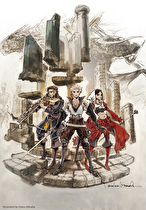 Crimson Shroud, the third game in Level-5's Black Box series on the 3DS eShop, will be available in North America and Europe on December 13, according to publisher Level-5 International America. The price has not been announced.
Designed by Yasumi Matsuno, Crimson Shroud places you in the role of Giauque, a "chaser" who finds what his clients are looking. The game plays like a tabletop RPG, dice rolls and all. Matsuno is a famed game designer, known for his writing and work on the Tactics Ogre series, Final Fantasy Tactics, and Vagrant Story. One of his most recent works was penning the story of MadWorld for Platinum Games.
This release concludes Level-5's promised eShop releases of games from the Japanese compilation game Guild01. Previously, the company released Liberation Maiden in October, and Aero Porter in November (exactly today in North America).
Crimson Shroud is Matsuno's first and only product for Level-5 before his recent departure from the company. You can read Danny Bivens' impressions here.