You don't have to travel through space to download ThruSpace.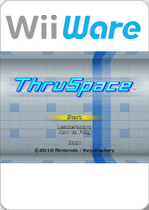 ThruSpace is now available for 150 coins on Club Nintendo.
From now until December 9, this WiiWare game can be downloaded for free on the Wii Shop Channel. Originally released in 2010, ThruSpace is a 3D Puzzle game which served as the inspiration for 3DS eShop title Ketzal's Corridors.
ThruSpace replaced the Virtual Console game Super Punch Out!! ThruSpace can be downloaded along with Touch Solitaire for 100 points until December 2.