Fans of Pit's latest adventure could take home an almost complete set of AR Idol cards.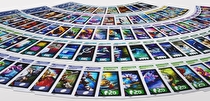 Club Nintendo is giving out 10 Core Sets of Kid Icarus: Uprising AR Idol Cards in a sweepstakes.
To enter, club members need to register their copy of Kid Icarus: Uprising on Club Nintendo, take the registration survey, and then click the enter sweepstakes button at the end of that survey. Club members that have already registered their copy of the game will also be able to enter by filling out a quick survey found in their to-do list. The contest will end January 7, 2013.
The Core Set of Kid Icarus: Uprising AR Idol Cards contains cards AKDE-001 though AKDE-402. This set even includes the rarest North American card, Three Sacred Treasures. Only a few cards are missing from this set and several of those have yet to even be released in North America.