It has not even been a full week, but tons of people have bought the latest Animal Crossing in Japan!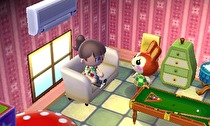 Nintendo has shipped 600,000 copies of Animal Crossing: New Leaf, known as Tobidase Dōbutsu no Mori in Japan, to retailers across the country and is reportedly sold out in many locations, Nintendo president Satoru Iwata shared in a tweet earlier today. The game is also selling well digitally, with around 200,000 digital purchases being made since the game was released on November 8. Nintendo is planning to release an additional 200,000 physical copies of the game throughout the country by the end of this week to keep up with demand.
Animal Crossing: New Leaf is available in Japan on physical cartridge or as a digital download directly from the Nintendo 3DS eShop or via a special download card. The game is scheduled to be released in the West next year. You can follow the Japanese Animal Crossing Twitter account here.