Nintendo is interested in thinking up ways to utilize both systems.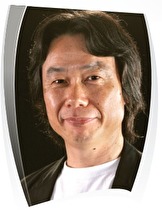 Nintendo is "thinking of the possibility of connecting Wii U and Nintendo 3DS once again," but it might be too complicated because all the different screens, according to Shigeru Miyamoto in an interview with IGN.
Miyamoto elaborated: "Of course we are thinking of the possibility of connecting Wii U and Nintendo 3DS once again," Miyamoto said. "But we have challenged connectivity on many occasions, and one of the great lessons we have learned is the simple fact that those who own both are much fewer than those who don't own both. So what we decided early on when considering the Wii U design was that we had to make it so that every single purchaser of the Wii U is going to have the same play conditions, the same equipment."
Connectivity between a Wii U and Nintendo 3DS could become too complicated because of the number of screens.
Miyamoto went on to explain "If we are going to do that with Wii U and 3DS, there would be three screens to consider. The reason why we were not so eager to do a similar thing between Wii and DS is that it would have become very complicated using two screens on the DS and one screen on the Wii. But of course we are trying to think about a way to expand the experience of 3DS and Wii U when they are connected with each other, one way or the other."
Nintendo has previously featured connectivity between its systems, most recently in the Nintendo DS and Wii. The things you could do while connecting your systems were added benefits to owning both systems.
Only time will tell what features will be accessible to owners of both the Wii U and Nintendo 3DS.