Nintendo confirms support for MadCatz and Turtle Beach headsets, plus three launch-day games that use them.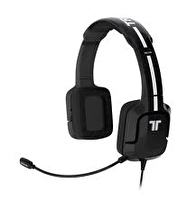 The Wii U will support online, in-game voice chat via licensed third-party headsets, but not via the GamePad's microphone and speaker, a Nintendo representative told Kotaku.
Peripheral and accessory manufacturers Mad Catz and Turtle Beach have both confirmed wired stereo headsets that will be compatible with the Wii U, by plugging them into the GamePad's headphone jack. However, contrary to a sizzle reel of the console's features shown at E3 2012, the mic and speaker on the GamePad controller will not function as an input for voice chat by default.
Launch games confirmed to include voice chat functionality through the Mad Catz and Turtle Beach headsets are Call of Duty: Black Ops II, Assassin's Creed III, and Mass Effect 3: Special Edition.
In the case of Black Ops II, an Activision spokesperson confirmed that players using the Wii U Pro Controller would still need the GamePad handy to plug their headset into, as the Pro Controller does not have a headphone jack. The spokeperson did, however, also state that it might be possible to utilise mic-enabled headphones for voice chat on Wii U.
PDP, known for releasing the Headbanger headset on Wii, have also claimed that their Afterglow wireless headset will work on the system, although there is no confirmation as to the extent of its compatibility.
The Nintendo rep said that in-game voice chat is not integrated at a universal level and thus is not required by every game with an online multiplayer component. Rather, the option will be available on a game-by-game basis.