Get the lowdown on Captain Falcon's Twister Race, Yoshi's Fruit Cart and Octopus Dance.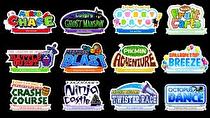 Details of the final three Nintendo Land attractions - Captain Falcon's Twister Race, Yoshi's Fruit Cart and Octopus Dance - were uncovered on a fact sheet released during the Wii U Showcase Tour at the Play Expo.
All three of these attractions are single-player games. Captain Falcon's Twister Race, which was shown briefly at E3 2012, sees the player navigate an F-Zero race course with a wind-up toy vehicle. This is controlled by holding the narrow end of the Wii U GamePad upright with both hands.
Yoshi's Fruit Cart, on the other hand, is described as a "brain-teasing" attraction. The player must guide Yoshi's cart to the goal, collecting every piece of fruit as they go. However, the fruit is only displayed on the TV screen, meaning that you must switch your attention between the TV and the GamePad to accomplish the task.
Last but not least, Octopus Dance, the attraction inspired by classic Game & Watch title Octopus, is a rhythm game. Using either the Control Sticks or the Gyro Sensor on the GamePad, players must memorise and replicate the actions performed by the character on screen.
All twelve attractions in Nintendo Land have now been revealed. The other single-player games are Donkey Kong's Crash Course, Balloon Trip Breeze and Takamaru's Ninja Castle, while the multiplayer attractions include Mario Chase, Luigi's Ghost Mansion, Animal Crossing: Sweet Day, Metroid Blast, The Legend of Zelda: Battle Quest and Pikmin Adventure.
Nintendo Land is a Wii U launch title in all regions, sold either as a standalone piece of software or bundled in with the Deluxe hardware package in North America. The game will be available on November 18 in North America, November 30 in Europe and December 8 in Japan.