The retail release will be the first third-party game in North America to get the retail/eShop treatment.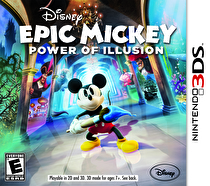 When Epic Mickey: Power of Illusion launches on the 3DS on November 18, you will be able to download it off of the eShop as well as in stores, Disney Interactive revealed at an Epic Mickey event in Disneyland.
The game was previously speculated to be a dual eShop/retail release courtesy of an E3 2012 Investor Q&A that showed a logo for Epic Mickey, as well as logos for Castlevania: Lords of Shadow - Mirror of Fate, Kingdom Hearts 3D, and Scribblenauts Unlimited, in a slide where eShop retail downloads were detailed. It was later revealed that the digital comment only referred to first-party games.
In North America, New Super Mario Bros. 2, Art Academy, and Crosswords Plus are the only current retail releases on eShop. Super Mario 3D Land, The Legend of Zelda: Ocarina of Time 3D, Mario Kart 7, and Star Fox 64 3D are coming to the eShop on October 18. All future Nintendo-published titles will be released on the eShop as well.
It is unknown if Epic Mickey: Power of Illusion will also be released on the eShop in Europe and Japan.