New Mario and Animal Crossing themed hardware units will arrive soon.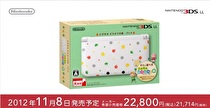 Four new 3DS LL hardware colors, and three bundles, have just been announced for Japan.
A blue/black 3DS LL will be released in Japan on October 11 for 18,900 yen. An all black 3DS LL and will be released for the same price on November 1. The new black model 3DS LL hardware will also be sold in a bundle that includes the system and a digital copy of Monster Hunter 3 Ultimate. This bundle will also hit store shelves on November 1 at a retail price of 21,800 yen.
On November 8, Nintendo will release an Animal Crossing: Jump Out bundle for 22,800 yen that includes a digital copy of the new game and an Animal Crossing-themed 3DS LL hardware unit. Then on November 15, a New Super Mario Bros. 2 bundle will release with a specially designed Mario 3DS LL and a digital copy of Mario's latest portable adventure for 22,800 yen.