After a few Chottos, we are getting a bigger one!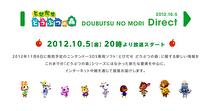 Nintendo will host an Animal Crossing-focused Nintendo Direct in Japan this Friday, coming on the heels of the Chotto Nintendo Directs that happened over the course of the last week.
The Animal Crossing, or Doubutsu no Mori, as the series is known over there, Nintendo Direct will be a full-sized live-streamed event focusing on the upcoming 3DS release, starting at 8 p.m. JST (see detailed times below).
There are no exact details giving as to what will be discussed, but according to Nintendo president Satoru Iwata, we will learn many new things. The presentation will be streamed on their usual Ustream and NicoNico pages, and will be available at Nintendo's own site.
All times are on Friday, October 5, unless otherwise noted.

8 p.m. JST
7 a.m. ET
4 a.m. PT
12 p.m. BST
11 a.m. GMT