You won't be blasting Metroids with your friends across the country.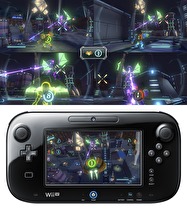 Nintendo Land will not feature any kind of online multiplayer play, according to Bill Trinen during an interview with 1UP.
"It's not going to be played over the network," Trinen said when asked if the game would feature online play.
This doesn't necessarily mean there will not be online interactions, just no playing with friends who are not in the room.
"For Wii U launch specifically," Trinen said, "one of the things that we want people to understand is that a network connection to a game can mean a lot of different things. It can mean online gaming, but it can also mean other unique ways to connect to other people. Miiverse is an important part of that. So for our first-party teams, particularly at launch, what they want to do is try to lead the way and show people different ways that you can use Miiverse in a meaningful way to connect the content to the Internet."
Trinen did say that he expects more first-party games to utilize online play further into the console's life cycle.