While the game is in the very early stages, we could be playing it in the not too distant future.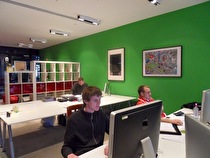 Australian developer Nnooo has revealed that they are currently planning and already have an early game concept for the Wii U. This information comes from an aussie-gamer interview.
Creative Director Nic Watt stated that the team hopes to start prototyping within the next month or so and that he wants the turn-around to be quite fast.
One of the main focuses of the game is that it will be a co-operative experience rather than one where the player plays alone. Watt also stated that he would like to look into some of the social aspects, such as asynchronous gameplay, where you could do something then return a few hours later to find a friend has something in response.
Nnooo are currently working on the Nintendo 3DS and PlayStation Vita versions of escapeVektor, and also their Spirit Hunters Inc DSiWare game, which will be releasing later this year.