The future is Black on Nintendo's new system.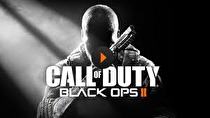 Activision finally confirmed that Call of Duty: Black Ops II is coming to Wii U at the Nintendo Direct event today in New York City.
Although there have been various rumours since the game was announced for other platforms earlier this year, this is the first time Activision has officially acknowledged the existence of a Wii U version of the game.
The latest outing from Treyarch, Black Ops II takes the venerable series in a different direction, bringing the frenetic FPS action of prior games into a futuristic setting. The Wii U version can be controlled with the Wii U GamePad, the Pro Controller or the Wii Remote and Nunchuk, and includes unique local mulitplayer features that allows one player to use the TV while another uses the GamePad, eliminating the need for split-screen.
Call of Duty Black Ops II will be released for Wii U during the system's launch window.