More details from the upcoming digital Nintendo park!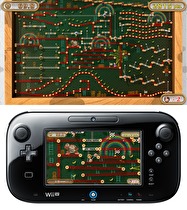 A bunch of new attractions were revealed by Nintendo of Europe president Satoru Shibata in the European Nintendo Direct presentation.
The total line-up of events are The Legend of Zelda: Battle Quest, Pikmin Adventure, Metroid Blast, Mario Chase, Luigi's Ghost Mansion, Animal Crossing: Sweet Days, Yoshi's Fruit Cart, Octopus Dance, Donkey Kong's Crash Course, Takamaru's Ninja Castle, Captain Falcon's Twister Race and Balloon Trip Breeze.
Nintendo Land is a pack-in for gamers who decide to buy the premium model, and the game is available on launch day otherwise.