The long awaited crossover's debut date will be November 29.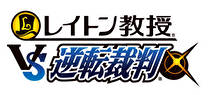 Professor Layton vs. Ace Attorney will be released on November 29, 2012 in Japan, as was revealed in this week's issue of Famitsu.
Last week the magazine had a puzzle from Level-5 on the back cover. The puzzle featured the numbers "6211" with the word 'turnabout' given as a hint. At that time it was speculated this could mean a November 29 release date.
Professor Layton vs. Ace Attorney is an adventure puzzle game being developed by Level-5 and Capcom for the Nintendo 3DS. There have been no announcements regarding whether or not the game will come to North America or Europe.