It's like the sequel to Balloon Kid we never got.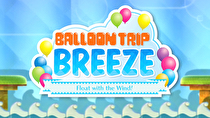 Balloon Trip Breeze is one of the newly revealed Nintendo Land attractions, and Game Informer has a trailer showing it off for the very first time.
We previously reported most of what Game Informer confirmed in the trailer today from early reports from the magazine's October issue, but the new trailer shows off the game in action for the first time. The graphical style appears to of a patchwork-looking nature similar to Kirby's Epic Yarn.
Players use the GamePad's stylus to use gusts of wind to control the character through the side-scrolling action, which is very much like the Balloon Trip segment of Balloon Fight. They also can interact with other objects, such as breaking bricks, on the GamePad's touch screen, which shows a zoomed-in view of the action.
Nintendo Land is set to be a Wii U launch title. We still aren't sure of what four of the remaining attractions are, but we know they will feature: Mario, Yoshi, Pikmin, and Game & Watch.