A secret ending attached to the iOS version of TWEWY teased a new game.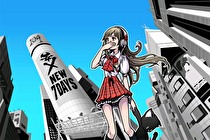 The iOS version of The World Ends With You included a secret ending that could possibly be interpreted as a teaser for a sequel to the Nintendo DS game.
The image, which you can view in this article, shows a new characters with the words "New 7 Days." Hopefully this is meant to infer a new game will be coming. If there is a sequel on the way, we do not know what platform it would be released on.
In a Famitsu interview, the game's director, Tatsuya Kando, said "We are in the middle of working on various things, but for now please enjoy Solo Remix."