It seems that Atari is committing to an October launch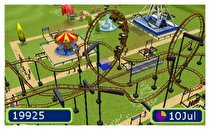 Atari announced today via press release that RollerCoaster Tycoon 3D will be hitting store shelves on October 16, 2012.
The game was originally set for an early 2012 release, but suffered a slew of delays on Atari's behalf, pushing it back almost a full year.
RollerCoaster Tycoon 3D, developed by n-Space (Heroes of Ruin, Geist), is a continuation of the long-running theme park management simulation. Aside from the 3D visuals, the title will offer a story mode, the ability to ride coasters in first person, shareable roller coasters via StreetPass, customizable coasters, and more.