Join other NWR readers and play your favorite online games this Tuesday!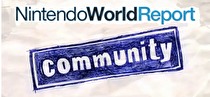 Nintendo World Report Community Night returns this Tuesday, September 4, starting at 10 p.m. Eastern/7 Pacific/2 a.m. UTC. We're keeping with the idea of the players choosing the games, so if you've got something in mind feel free to suggest it now or in the chat during the event. Is there an old Wii or DS game you've been aching to play online, or a 3DS game we haven't picked in a while? Try and recruit other players here!
Do you like this new approach for Community Nights? Would you rather they be on a different day of the week? Please leave feedback in the TalkBack.
We will be coordinating the event in our chat room. Having trouble? You can also connect with a dedicated IRC client. Server: irc.browsingtheinternet.com Channel: #nwr