The shipment of Diamond Trust of London, a DS game kickstarted into existence by Jason Rohrer finally arrived at his doorstep.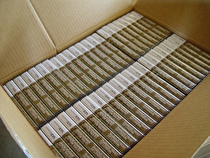 Independent game developer Jason Rohrer, creator of the DS game Diamond Trust of London, received his first shipment of retail copies of the final game on August 7, making his game the first retail game for a Nintendo system funded by Kickstarter and shipped.
The shipment dropped off by a FedEx freight truck contained 21 boxes of the game's special edition, and 104 boxes filled with regular editions of the game.
Diamond Trust of London is a board game-style strategy game based on diamond trading, which features bribing and spying mechanics to complicate gameplay. Kickstarters who donated to the campaign are expected to start receiving shipments in this month with the possibility of shipments continuing through September.