Japan is gearing up for the first limited edition 3DS LL hardware.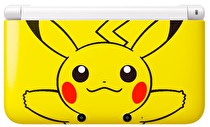 A Pikachu Yellow limited edition Nintendo 3DS LL will be released on September 15 in Japan retailing for 18,900 yen.
The unit, which is exclusive to the Pokémon Centers across Japan, will be available for preorder starting on August 25 until September 14. Pokémon Centers are located in Sapporo, Sendai, Tokyo, Yokohama, Nagoya, Osaka and Fukuoka.
The release of the Pikachu Yellow limited Edition 3DS LL marks the first limited edition for Nintendo's new iteration of the 3DS.