Nintendo commemorates their upcoming 3DS game release with a new puzzle panel to collect. Cross your fingers that you got a free purple piece!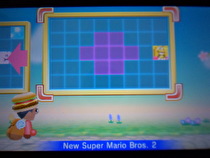 A new panel is available for 3DS owners to collect in their 3DS StreetPass Plaza. This time the new 40-piece panel commemorates the upcoming New Super Mario Bros. 2.
Check your 3DS Swapnote notifications! 3DS owners who have SpotPass activated for their StreetPass Mii Plaza software and an active internet connection are reporting receiving notifications alerting them to the new panel. The panel is activated once you launch the Puzzle Swap mini-game inside the StreetPass Mii Plaza application. As before, you'll be given a free random piece to start your collection with. Some lucky gamers will be gifted a StreetPass-only purple piece from the center of the panel. These purple pieces are otherwise only available by StreetPassing 3DS systems that already own the piece.
It appears that Nintendo will continue to release new 3DS StreetPass puzzles as part of awareness campaigns for games that are soon to launch. New Super Mario Bros. 2 launched in Japan on July 28, and is coming to Europe on August 17, to Australia on August 18, and to North America on August 19.
Thanks to reader Art_de_Cat for the tip!